Executive Summary
Less than 5% of commercial buildings have In-Building Wireless (IBW) solution installation.  Without In-Building wireless installation, property managers, owners, and builders are missing an opportunity to increase profits through attracting modern, mobility-favoring tenants. The easiest way for a property to miss out on revenue is to lose tenants to turnover, or worse, not to get them in the first place. To get them in the door, your property must be well-maintained in your tenants' eyes, and your operations staff must be able to work efficiently throughout your property to make this happen. These needs hinge on mobile connectivity, an area in which many properties are lacking. You already provide utilities (water, energy) and amenities (parking, workout facilities), but you may not be aware of In-Building Wireless, a compelling way to attract and retain tenants in our technology-centric era.
With 5G for IBW, new forward looking architecture and solutions are getting developed which will integrate/support emerging IoT applications and smart solutions better. So, IBW solution options must be evaluated with forward looking requirements and proper lifecycle management & tenant support that improves property values with improved customer experience.
Why In-Building wireless?
Poor cellular reception affects everyone. With the growing demand for faster speeds, degraded voice and media quality, increased demand IoT (Internet of Things) devices, having quality cellular service at all times is an absolute requirement for work efficiency and satisfaction:
Are people complaining about poor cellular coverage indoors?
Does it hamper workflow & productivity?
Are people getting near a window or going outside to make a call?
Are these liability issues (such as no signal in an elevator or stairwell)?
Use of cell-phone in poor indoor coverage has higher health affects as cell-phone has to work harder to transmit its signal to cell-tower
In a survey of business tenants, two-thirds claimed it would be a major challenge to survive without wireless connectivity. If a business is lacking coverage and can't survive in their current workspace, they have two options: find a new space to lease or pressure the owner to fix the problem.
Market studies have exposed a driving need for improving In-Building Wireless(IBW) communications, noting that:
Mobile traffic has increased massively and will continue to grow
80% of all data funneled to mobile devices is being consumed indoors, and
more than half of large U.S. offices have noticeably poor indoor cellular reception
Most properties are not exempt from the problem of poor IBW coverage. Three out of four enterprise tenants reported that employees had to move around the building or go outside to find good reception. With an IBW system, your tenants can be more productive (voice calls & email), more engaged (video collaboration & instant messaging), more efficient (building automation), more entertained (Netflix & Facebook), and safer (911 & public safety).
Poor wireless coverage can be extremely inefficient for building operations staff when they need to work in traditionally poor coverage spaces, like a basement, stairwell, or interior room.
Benefits of In-Building Wireless solution:
In-Building wireless (IBW) system is a growing solution for many businesses to improve their wireless communication infrastructure. It provides augmented & ubiquitous network coverage for all mobile devices. It remedies the causes & problems of poor In-Building cellular service. Whether in an urban or rural area, getting poor signal because of cell tower distance or building material, IBW systems provide constant, reliable network coverage with no interruption to work, entertainment, and/or emergencies.
IBW systems are scalable, able to serve small commercial buildings & SMBs (small medium businesses) to large venues such as stadiums, airports, and convention centers.
Better property values
Better reputation by customers (Starbucks-WiFi is known to attract more business) and competitors
Better efficiency – real-time control and monitoring. Enabled real-time smart building control and monitoring. Changes in building construction standards including more green building technology. AR/VR applications, better shopping experience, improved office work-flows, Real-time applications
More federal & local public safety requirements
BYOD & Multi-Tenant solution
Better Security & Surveillance – smart security cameras (face recognition)
Improved Voice and Media experience – better quality video & voice
Who is responsible for In-Building coverage?
Unfortunately, it is often unclear who exactly is responsible for improving indoor connectivity. Most building professionals place the responsibility on the mobile network operators to solve the problem, but in most cases, it is the property owner's responsibility to deal with this issue.
For property owners, there are several common roadblocks to implementing an IBW system (1):
The cost of the network,
The complexity of the technology, and
A lack of skilled workers to manage the system
The Mobile Network Operator (MNO)
Mobile Network Operators, also known as wireless carriers (think Verizon, AT&T, Sprint, T-Mobile) have all paid substantial FCC license fees for exclusive access to and control of specific radio spectrum in a given geography. Because of this ownership, carriers require any IBW system to be approved and retransmission of their spectrum authorized prior to connection to their mobile network.

Obtaining this approval involves knowing the right carrier personnel and processes; therefore, when pursuing the implementation of a carrier-involved IBW system, it's best to engage an experienced supplier with established MNO relationships.
One-MNO IBW Vs multi-MNO IBW installation is an important cost and strategic factor that needs to be decided by building owners. Multi-tenant buildings requiring BYOD (Bring Your Own Device) device support should consider multi-MNO indoor coverage solutions. Shopping malls, Airports, Stadiums, Hotels, Office buildings are good examples of such installations.
Whom to contact for IBW efforts?
There are multiple factors to consider in deciding whom to contact for IBW efforts. There is no one-size fits all IBW solution unfortunately.  Also IBW-solution should not be considered in isolation. It needs to be considered in broader context on "5G in Enterprise" strategy and planning.  With 5G, Enterprise is going to deal with Wireless in three broad dimensions:
Enterprise Mobility Strategy – Is it BYOD (bring your own device) or single carrier
Enterprise-IoT strategy – What IoT, AR/VR and real-time monitoring and control requirements do you have?
In-Building Wireless coverage – First step is to study relative signal strength of each Mobile Network in building and evaluate "gaps" based on what is needed Vs current status
Based on overall smart-building & 5G strategy for Enterprise/building-owner, IBW-solution must be developed. One-MNO or Multi-MNO IBW-solution is another consideration. Whenever BYOD needs to be supported, it is important to choose multi-MNO solution for IBW. Also, city regulatory requirements, especially public-safety requirements, must also be considered.
Based on vertical segments, considerations for IBW could be different:
 
Vertical
Vendor
Relationship & Funding Model
1
Industrial
Neutral-Host  / MNO / Private-LTE Vendor
MNO-funding can be explored if MNO option is used as a vendor. Need to look at comprehensive IIoT solution with IBW as one component.

Enterprise-funded Neutral-Host for Multi-MNO solution or private-LTE vendor for CBRS or Multifire based Private-LTE+WiFi can be considered.

2
Ports, Airports, Sports & Convention Center
MNO
MNO may be interested in signing agreement in deploying MNO-paid IBW solution. Building owner must consider future IoT applications and IBW solution requirements as well.
3
Retail
Neutral-Host
Neutral-Host vendor should be asked to do assessment and then contact all MNOs for IBW solution support, relationship and funding.  Deployment can be best achieved as Managed-IBW Services agreement with Neutral-Host vendor. Must consider Smart IoT Apps, AR/VR together with IBW. Tenant Services and rules for additional wireless capability must be managed
4
Office-Building
Neutral-Host
One-MNO or Multi-MNO depending on single-tenant Vs multi-tenant criteria and Building Owner ROI can be considered; Rental value improvement with better IBW, Tenant Services and rules to manage RF-interference must be managed. Comprehensive plan of IoT applications requirements and IBW solution requirements must be considered.
5
Health-Care & Hospitals
Neutral-Host
Multi-MNO preferably. Funded by Enterprise with minimal expectation of funding by MNO. Deploy as managed-IBW services with multi-year contract and performance definitions.  Comprehensive plan for IoT-application requirements and IBW solution requirements must be considered.
6
Oil & Gas
MNO + Neutral-Host
Oil & Gas assets are typically geographically dispersed. Given this situation, MNO partnership is desirable for geographically distributed assets. For In-Building assets, it may be desirable to use private-LTE network or Neutral-Host solution. Comprehensive plan with proper consideration for IoT applications must be considered together with IBW solution effort.
7
Education
Neutral-Host
Large Universities (like NYU or Stanford) want to have good In-Building Wireless coverage along with good WiFi solution. Multi-MNO solution is desirable. Interest of MNO in these opportunities could vary. They may be interested in partial funding. Managed-IBW service model is desirable. Comprehensive plan for IoT applications and IBW solution must be considered instead of separate efforts.
8
Government
Neutral-Host or MNOs
For public safety, AT&T (FirstNet) will be used. It is likely that other MNOs may offer lucrative terms for IBW solution.  Some Govt business may consider Neutral-Host companies for managed services. Comprehensive plan must be created for IoT-applications, Mobility requirements and IBW solution
9
Defense
Private-LTE and Neutral-Host
A lot of defense bases are much like cities and require multi-MNO solution for personal traffic and private-LTE for official traffic. Comprehensive plan of IoT-applications and IBW solution requirements must be considered.
10
Transport, Logistics, Automobiles
Multi-MNO, Relay, Neutral-Host
Connected-Car is a very large business opportunity for every MNO. Each MNO wants "exclusive" relationship. However best option is to develop multi-MNO capability, preferably via Neutral-Host type services company
 IBW Coverage
 It's important to understand where connectivity is needed within your property, since the entire building may not require coverage from all carriers. A simple assessment survey performed by a reputable integrator can give you an idea of the current baseline coverage your property receives from surrounding outdoor cell sites and what it would take to fill in any holes in coverage.
For Wi-Fi services, installation of equipment is relatively simple because the building owner has complete control of the system, meaning no outside approvals are necessary. However, complexity enters the equation when:
Each tenant provides their own Wi-Fi coverage— bringing poor signal quality due to RF interference, or
The property owner installs one shared Wi-Fi system—bringing complexity in creating secure, segmented, and controlled connections for each tenant.
Wireless Coverage Rating system (WCRS)
A standard way to rating indoor wireless coverage will help a lot in marketing and monetization of IBW investments.  As an example – WCRS-rating will help hotels in marketing the quality of their wireless coverage and attract more customers with potentially higher room rents.
 Steps for IBW deployment
Step-1:  IBW requirements assessment
How do you know if In-Building Wireless is a good fit for your building needs and what is needed to get this implemented?
As a first step of improving In-Building wireless coverage, building owner needs to perform "professional" In-Building Wireless coverage assessment.
New Building – For new-buildings, this step can be skipped and go directly to IBW planning effort.
Existing Buildings – First step is to hire a professional firm for In-Building assessment. There is no one-size fits all type of solution for In-Building Wireless services even in same vertical market.  A lot depends on location of building as well. In our view, every commercial building should be rated for In-Building coverage through some sort of a color-scheme per MNO. We provide this service to our customers at a very competitive price.  If Enterprise has multiple building in many cities, city-level planning for IBW-solution assessment is recommended. In-Building assessment should, also, cover recommendation for achieving good In-Building Coverage and cost estimate for different options.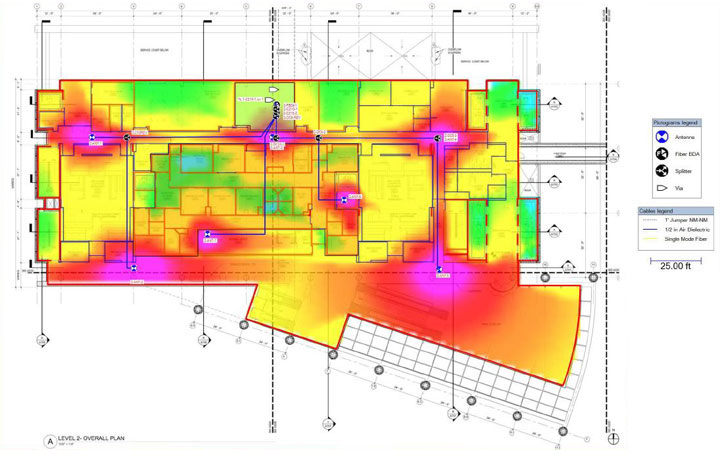 Mobilestack offers IBW assessment services to building owners. Contact us for more details.
Step-2: IBW Solution Planning
New Building – For new buildings, this needs to be done as part of construction planning much like electricity plan is developed even if In-Building wireless solution is deployed much later. By doing it as part of construction planning, re-work after construction for In-Building wiring, power and cable installation cost is minimized making IBW-solution cheaper to deploy or/and scale.  Installation of In-Building data/optical fiber wiring after building construction is costly.  Comprehensive smart- building,  IoT application requirements, data cabling plan, Edge Solution requirements and IBW solution requirements must be considered as a roadmap. This will avoid any significant future re-work which may be costly to implement.
Existing Building – Detailed planning of IBW solution is needed including funding options, role of MNOs, performance expectations after deployed solution and pricing options for building owner. Also, planning proposal should include life-cycle management, rules for tenants to avoid RF-interference, upgrade options as new IoT applications are added by building owner.  MNO partial funding options and support must also be considered as part of this IBW solution planning.
Mobilestack offers IBW planning services to building owners. Contact us for more details.
Step-3:  IBW Build Phase
In this phase, In-Building Wireless solution is deployed as per approved IBW-plan in step-2 above.  Before Vs after IBW-deployment wireless coverage and customer experience impacts must be measured to ensure that IBW solution is meeting its objectives.  One important benefit of In-Building solution deployment is improvement in real-time application such as voice calls, video calls and, in future, AR/VR solution experience instead of just data-throughput benefit which is often used for measurements. Another important experience improvement parameter is better support for cellular connection density.  More device or people at one location or room should be able to use cellular services simultaneously. Again this KPI is often ignored by many vendors and must be counted.
Mobilestack offers IBW deployment and managed services to building owners. Contact us for more details.
Step-4: IBW Monitoring and Control
IBW solution is not build & forgets type of solution deployment.  Continuous monitoring and control of In-Building coverage & network-security must be followed.
Ongoing IBW network monitoring and management can come in several different ways. To gain MNO's trust and confidence will be hard for building owner or its technical staff. Best option is to use managed services to continuously monitor and manage IBW solution. Alternatively, monitoring can be done by building owner and out-source control & management function as managed services preferably to same company who has deployed IBW solution.
Mobilestack offers IBW monitoring and managed services to building owners. Contact us for more details.
Step-5: IBW solution lifecycle management
IBW solution must be deployed in a way that it is easy to update, scale and modify. Future looking deployments that are compliant to newer technology and industry interfaces is better instead of adopting older IBW technology which will become obsolete quickly and affect future growth or value improvements. In Wireless industry, technology obsolescence rate is very high and new technology is developed every 6 to 8 years. Rate of evolution is going to become faster as IBW-solution becomes software-only solution using re-configurable future-proof hardware.
Upgrade path to adoption new technology faster should be important and provide better TCO in long-term. TCO considerations Vs future upgrade requirements must be in proper balance.
New innovative business models for lifecycle management and upgrades are developing for IBW-solution using newer technologies. This will make IBW-managed services offered at predictable monthly cost for a long period of time possible instead of cost + services pricing model.
Mobilestack offers IBW lifecycle and managed services to building owners. We take care of all hardware and software changes without any change in monthly cost. Contact us for more details.
IBW Solution Options
In-building wireless comes in a few different flavors, but the goal remains the same: wirelessly connect tenants, guests, and other building occupants to the network services and software applications that they want and need. Whether it's in an apartment building, commercial office building, hotel, healthcare facility, school, mall, or public building, everyone now depends on reliable mobile connectivity where they work, live, learn, shop, and play.
Active DAS
Active DAS provides boosted 4G LTE cellular coverage for buildings. Active DAS works by directly connecting to carrier networks. Digital signal feed from operator is carried through fiber optic to maintain signal integrity regardless of cable run and coverage area.
Active DAS is best-in-class in terms of signal boosting and coverage range. Mobilestack can facilitate this connection management between operator and building owner. Since Mobile Operator wants control on digital feed that is provided for In-Building coverage instead of giving up control to building owner, Operators prefer a relationship with neutral host managed service provider.  Given Mobilestack's domain expertise in RAN products and trusted relationship with Mobile Operator, we can offer IBW managed services to building owners and partner with Mobile Operator (MNO) for digital feed and its management by working closely with MNO's RAN operational management team.
New digital feed interface standards are getting developed as part of industry-forum efforts. It is likely that Active-DAS could become cheaper in future as solution migrates to commodity future-proof hardware supporting Active-DAS as software-only solution working closely with MNO's Base-Band processing unit (RAN-BBUs).
Passive DAS
Passive DAS is a signal amplifier or booster which picks-up weak signal from outside the building (preferably best location outside building) to amplify and distribute indoors as-is. This is a simple device and cost-effective option. For small buildings, this may be a reasonable option to consider. This solution is a single-MNO solution suitable for smaller capacity buildings.
However, for large buildings with future requirements of smart-building and IoT-applications or AR/VR support, this solution will not be a good fit.
Public Safety requirements can also be addressed using this kind of solution.
Cell Relay
Cell relay node (RN) concept was introduced in 3GPP release 10 to solve performance issues like the reduced data rate, the weaker signal and the higher interference encountered on the radio coverage edges by expending the covered zone and increasing the capacities of the radio coverage both indoor and outdoor at a lower cost. RN is connected to a macro eNodeB (basestation in LTE) called Donor eNodeB (DeNB) using a radio interface.  For a Donor eNB, the relay node appears as a UE. By creating its own coverage zone, the RN appears as a eNB to the UEs. LTE-A relay node, are designed to be low cost and lower power nodes which can be easily and quickly deployed when needed. If Mobile Operator supports RN-technology then this is a good choice to improve indoor coverage rapidly at lower cost.
This solution may work for boosting operator's signal for public-safety applications and portable MNO-signal booster inside buildings.
New innovative solutions using cell-relay technology are getting developed for future use & installation in transport system, railways & autos to boost / convert MNO-signal and provide better coverage to passengers.
Small Cell
Enterprise small cell can be deployed to achieve high capacity as well as expand coverage, enabling the voice and data solutions that businesses rely on. The enterprise cell is LTE-enabled and ideal for mid-sized locations. It is effective in hotspots with crowds of people such as shopping malls and especially enterprise. Indoor coverage and capacity expansions are simplified by our Small Cells' 'plug & play' design.
Small cell technology is evolving rapidly with 5G. If carriers can agree on sharing a common base station and/or neutral spectrum, there's potential for massive growth.
IBW for Public Safety
In an emergency event, fire fighters, police, and paramedics require access to a public safety wireless network and this access requirement does not stop at your building's front door.
Through adoption or amendments of national or international Fire Codes, many jurisdictions require public safety IBW assessments and/or mandate that In-Building emergency responder Radio Enhancement Systems (RES) be installed in select new or renovated buildings as a prequalification to a certificate of occupancy.
Commercial real estate professionals need to make sure their architect or general contractor considers the need for RES. The building owner is responsible for the RES cost and can contact a wireless systems integrator to guide them through the process.